For this weekend social post I picked the amazing, Michelle Boland. 
How to set up for DB Pressing. The type of set up that get clients thinking "Yes…this is what I pay for. All the little details I can't get anywhere else"
Very simple cues, but extremely overlooked. Many trainers still coach it by asking their clients to pack their shoulder blade down. I've even had a well intended physical therapist ask my client to not let their shoulder blade protract during a press (UGH). But like Michelle Boland states in her post, she's looking for the rib cage to RETRACT, and we she gets the rib cage in a more optimal position, your client will be more successful with the activity you're trying to get them to do. 
If you're not coaching someone's thorax to retract before activities, you're really missing out. I didn't until 4-5 years ago when I was coaching 18 group classes in one week. When I got away from packing the shoulders and started getting people reaching, everyone's movement quality and their ability to lift with great form shot through the roof.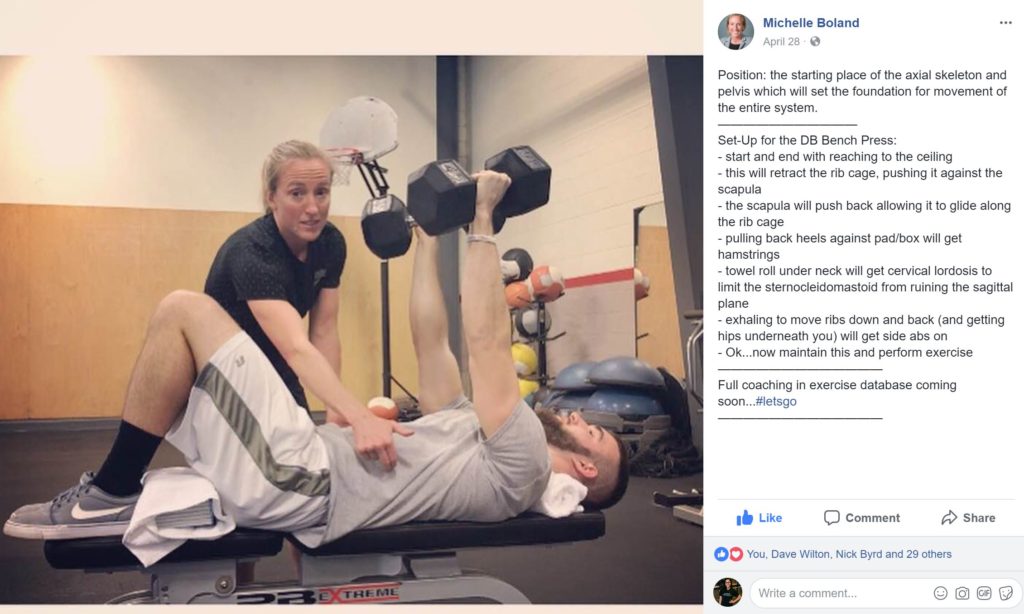 Michelle has been sharing great tips like this on social media for a long time. If you're not following her, your clients are missing out on results 😉
If you're actually serious about taking your coaching game to the next level, I've got some great news for you!
Michelle just released her NEW PRODUCT! 
What You Get:
–          You get links to OVER 190 creative and advanced exercises
–          You get 21 Full Coaching Tutorials
–          You get 21 videos with Full Audio Coaching Explanations
–          Video Links for your programming that will save you time and effort
–          FREE Conditioning Exercises
–          Discounts on new editions
If you want to keep up with the best in the industry, you have to put in the work and get better on a constantly basis. That's exactly what Michele does, and it'd be crazy to not learn from her.
Until next time 🙂
Lucy