Have you ever had clients come in and they can't seem to do anything without hurting and/or flaring up the next day?
Not even a handful of exercises.
Normally, these are the people who scare coaches into turning them away or referring them to a PT.
But we must ask ourselves: Why do we refer out?
The real reason trainers refer out should be to get the bad things ruled out; and with these people, the bad things usually have been ruled out.
I've never had a client come in who hadn't already been cleared to exercise. These clients already have been to PT; maybe even to multiple PTs. They might even be encouraged to exercise by a PT and/or their pain doc.
The green light to exercise is there, and we just have to figure out how to meet them where they're at. That's what many coaches are unable to do.

Here are the three things these people go through that we as an industry need to stop doing:

1) They Get a Cop-out Referral
I'm okay with "I work closely with a PT in town whom I think would help you find moves that don't bother you and would help me design a program for you."
A cop-out referral means you give them zero direction.
"You should see a physical therapist."
If they've already been to multiple PTs, they might not even go to another one; they'll just go home. Feeling hopeless and defeated that they couldn't even do ONE exercise without flaring up. And you're patting yourself on the back thinking you just did a good thing when in reality, you perpetuated this person's fragile mindset.
Not all referrals are equal. Not all PTs will be the expert this person needs. Not all coaches have Bill Hartman next door to deal with complicated cases.
In some cases, a trainer who understands pain, has good coaching skills, and follows a multi-model approach is the best option for these people.
2) They Get Treated Like Glass
A cop-out referral might lead to them finding a trainer and/or physical therapist who validate their perception of themselves, which is fragile mindset, and they're treated like that forever.
These people never pick up weights heavier than five pounds, their training involves core and balancing exercises, and they never progress from there.

3) They Are Told to Suck It Up
I've heard trainers get frustrated with these people and they've said things like "Well, you'll always feel pain, so you're damned if you do, and damned if you don't, so you might as well just lift weights and deal with it."
Or they say things like "Research just shows you need to get stronger", and even though that statement holds some truth to it, it doesn't mean shit when it's said to clients who don't trust you and perceive themselves as someone who can't handle a lot of physical activity.
Telling people in pain to suck it up and exercise doesn't go well.
Just look at these comments from people IN pain who watched a video on how exercise might be the best thing for them.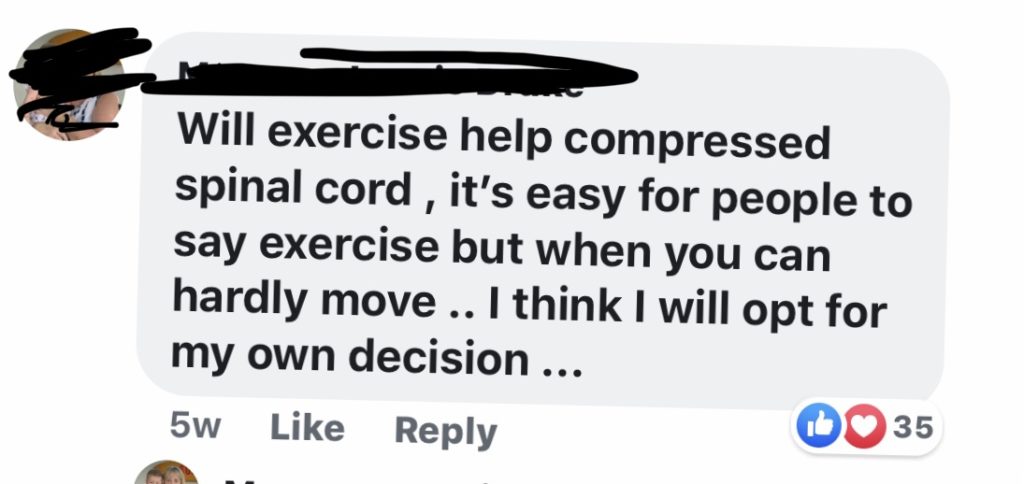 As an industry, we can do better when dealing with this population. We can do better at understanding how these people's past experiences and beliefs validate their present perceptions and views of themselves. We can do better at meeting these people where they're at, and progress them from there.
The lack of information in the fitness industry on pain science combined with the ego and old-school mentality in the medical community have left these people behind with no help.
But I'm here to change that. ?
For today's blog, I'll show you what has worked for us by taking you through two clients who couldn't do more than a handful of activities when they first started out but now are lifting weights just like our pain-free general pop clients.

If you're interested in learning the training model that helps us train these people, CLICK HERE to save your spot at our next seminar! You'll learn how to have consistency throughout your coaching which is what these people need to progress 🙂
Until next time!
Lucy